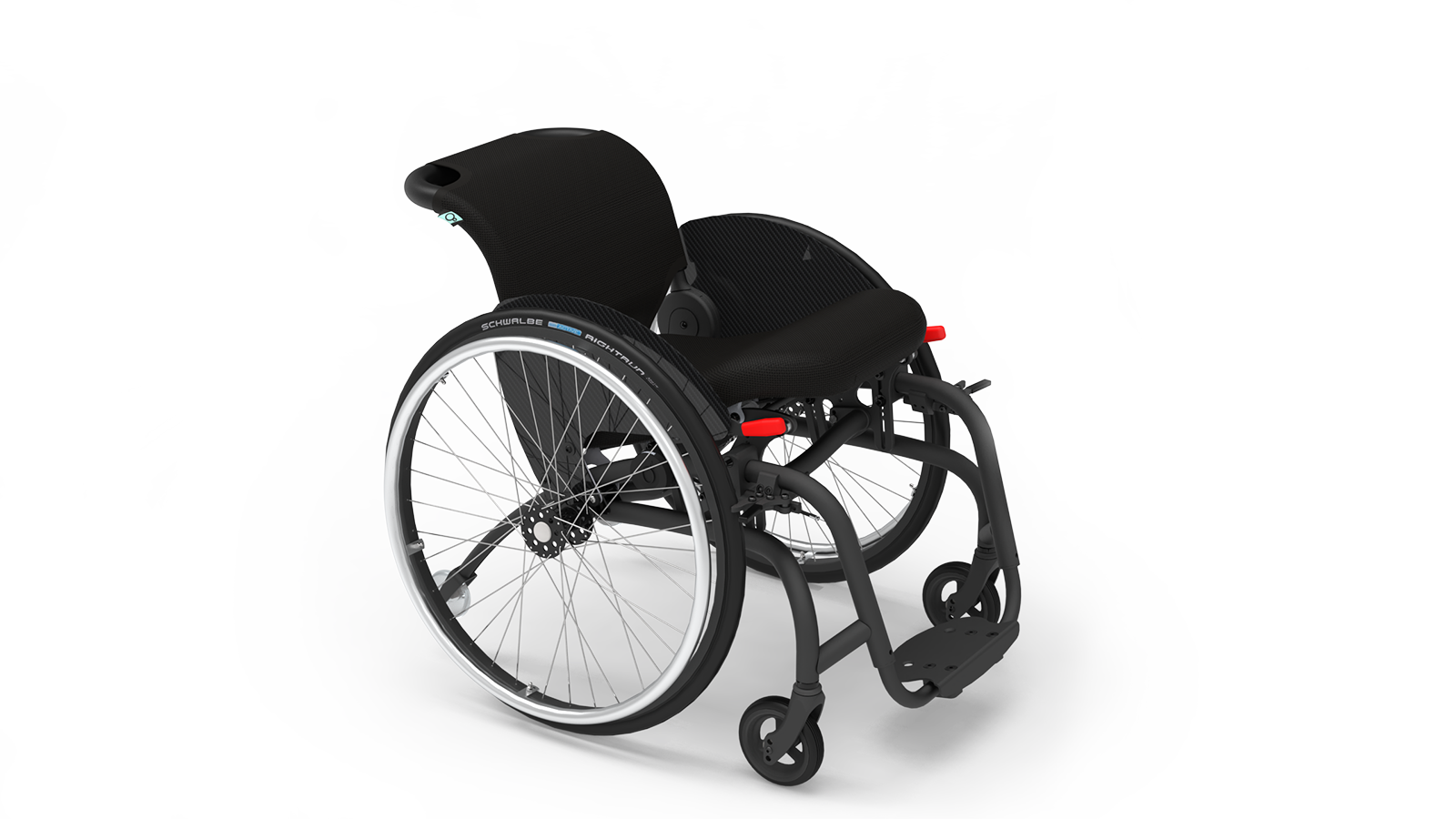 Dynamically through the day with
Flow Active
What makes a wheelchair good is determined by you as the user. A good wheelchair helps you get through the day and ensures that you get more done and have more energy. This is important not only at home but also at work. Both the backrest and the seat of the Flow Active can be seperately and easily adjusted while you are in the wheelchair.
Do you want to improve your performance in your daily life and have more energy left? Then the ergo-dynamic Flow Active is the solution.
Benefits of the Flow Active wheelchair
Unique angle adjustment of the backrest and seat;
Dynamic seating posture;
Comfortable and smooth driving thanks to excellent shock absorption;
Integrated anti-tip safety feature in the frame;
Possible add-ons for an electrically powered wheelchair;
Fully custom-made
Plenty of energy at the end of the day!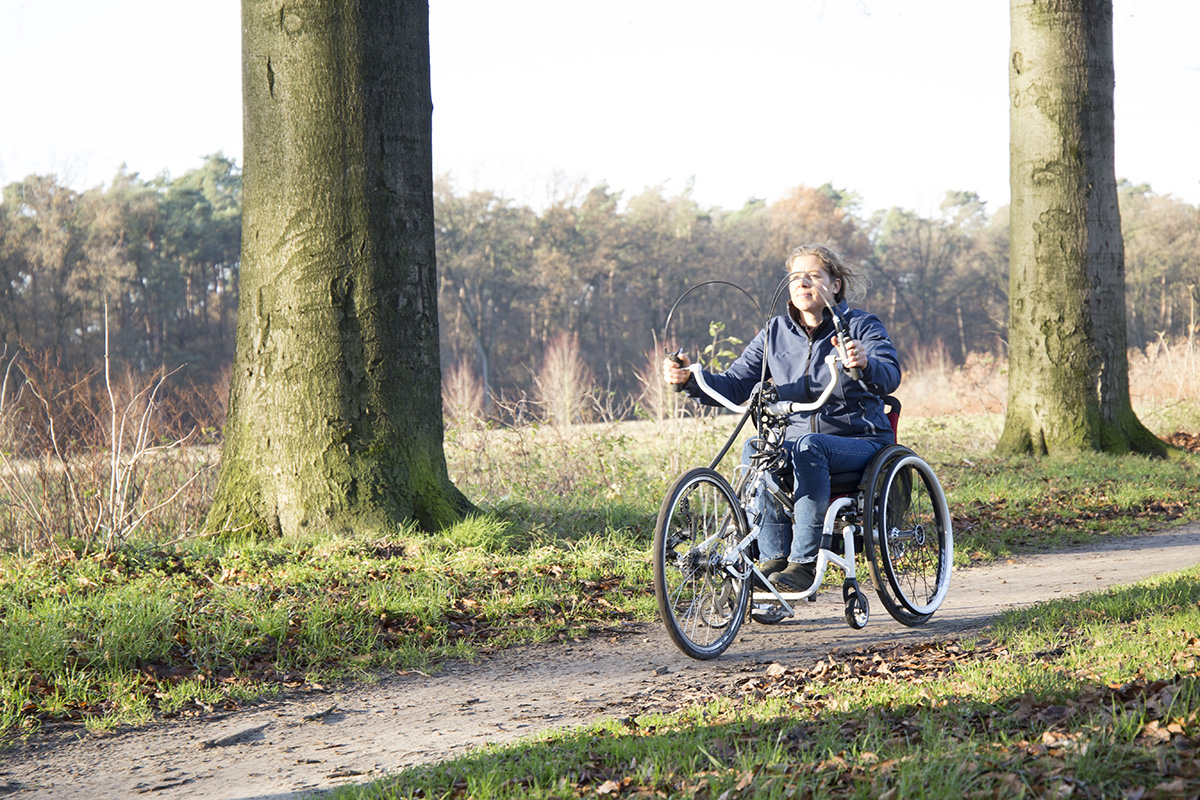 Unique seating angle adjustment
The main feature of the Flow Active is the unique seat angle adjustment. This allows you to effortlessly change positions throughout the day, reach further, and perform more active tasks. For example, if you want to reach the kitchen cabinet a little easier at home or sit in an active position at your work, table, or desk, you can easily adjust the backrest and/or seat of your Flow Active with one simple action. This means that you no longer have to adapt to the positions of your wheelchair, with all the discomfort that comes with it, but that you can adjust your wheelchair to how you want to sit at that moment.
Flow Active increases your freedom of movement
Thanks to its adjustability, you can optimize the Flow wheelchair to fit your body and your activities. Whether it's navigating through narrow streets, using a handbike, or going uphill and downhill, your Flow seating system moves with you. With the excellent shock absorption of the Flow seating system and continuously adjustable balance setting, you also drive comfortably and painlessly. Read all about the adjustment and customization options under the Flow seating system.
The beautifully integrated anti-tip safety feature in the frame allows you to choose at any given moment whether you prefer the safety of anti-tip or the freedom of movement without it.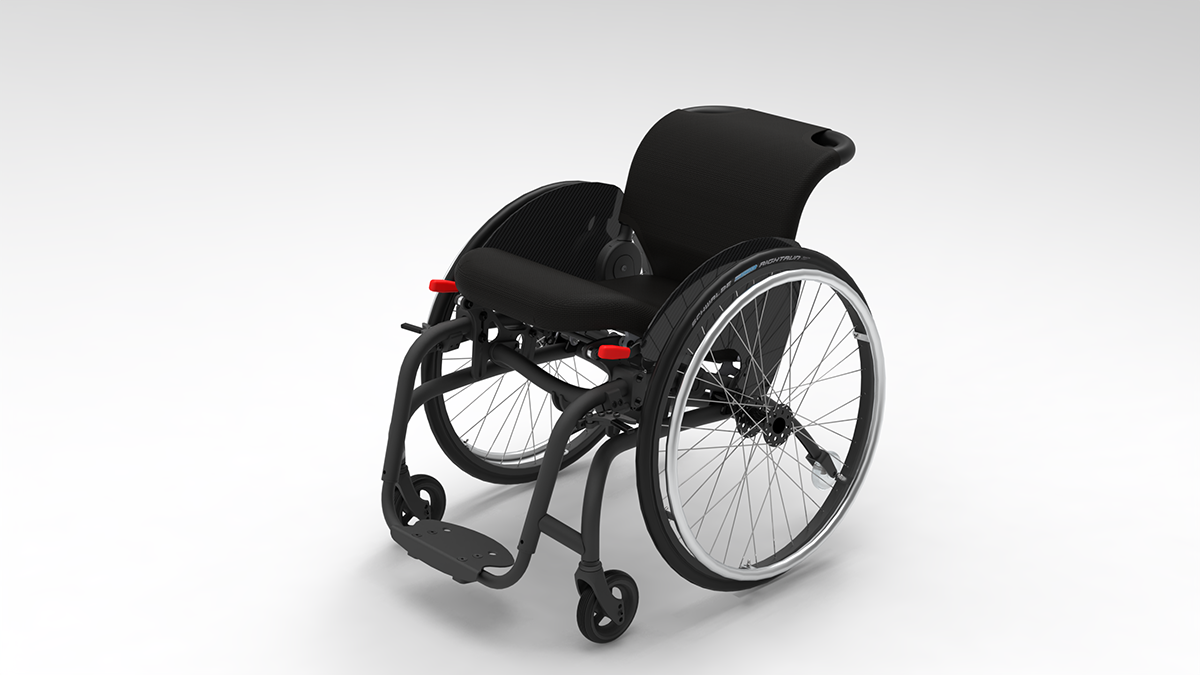 Wider range of uses with Flow Active
By choosing the Flow Active, you can more easily adapt to your work environment. Switching tasks or workspaces becomes easier because you can take a different position and change it at any time.
Perhaps even more importantly, thanks to the Flow Active, you have plenty of energy for other enjoyable activities at the end of the day. Do you think the Flow Active is something for you?
Specifications
Flow Active wheelchair
Weight

Maximum load 120* kg
*160 kg with reinforced frame

Seat width

36.5 cm – 51.5 cm (in increments of 2.5 cm)

Transport weight


7.8 kg

Seat depth

35 cm – 50.0 cm (in increments of 2.5 cm)

Seat height

Front: 45.0 cm – 62.0 cm
Back: 44.0 cm – 59.0 cm

Backrest height

35.0 cm – 50.0 cm (in increments of 5 cm)
Alternative models
The Flow Active is an all-rounder that is ready for many of your daily tasks. If you prefer an adjustable backrest but find the adjustable seat angle less important, then the slightly lighter Flow Original may be more suitable.
If you want to be able to remove or swing away the leg rest or if you want the option to easily trip indoors, we recommend the Flow Relax.